New Market Entry - Service Design

General Insurance Company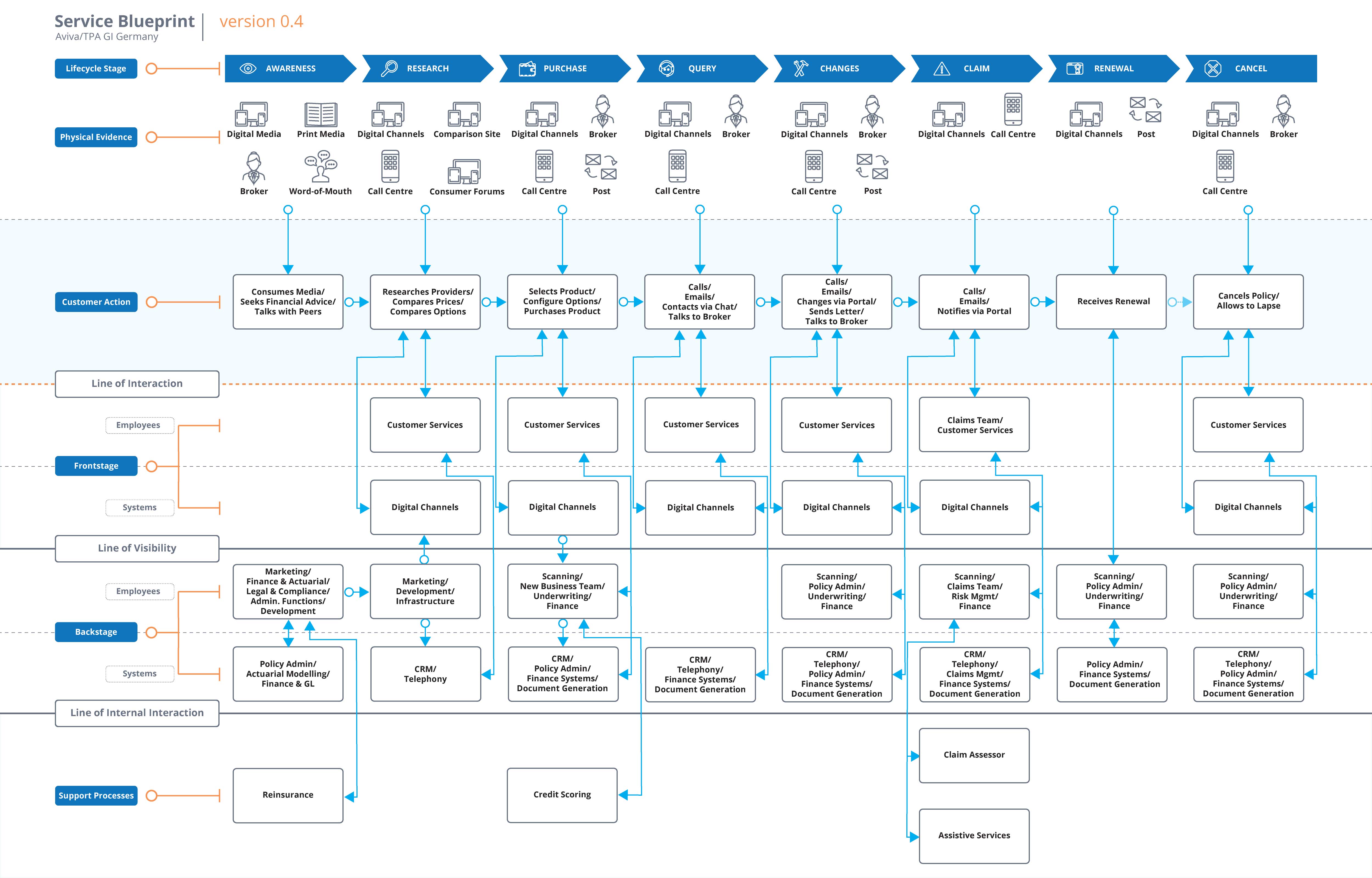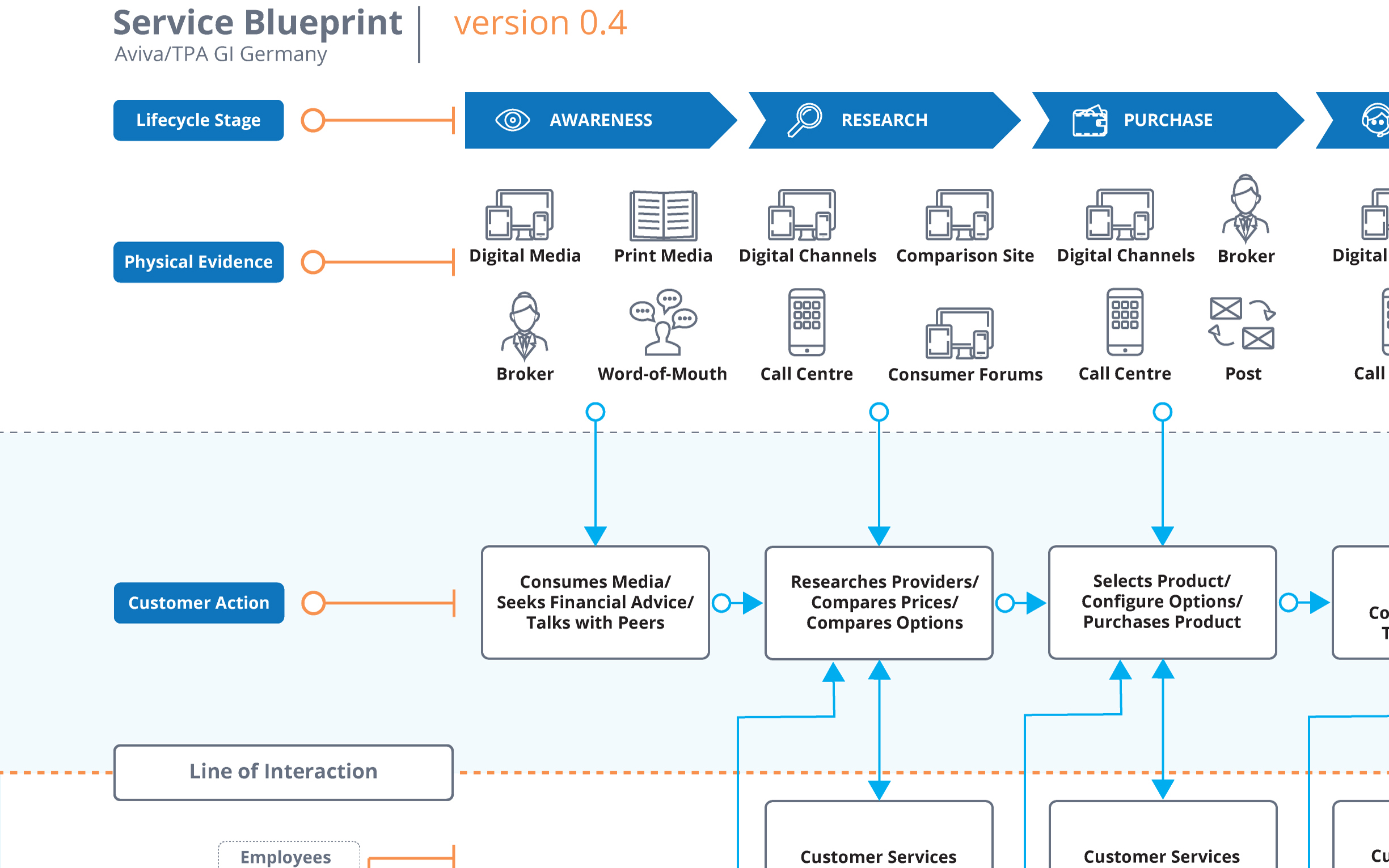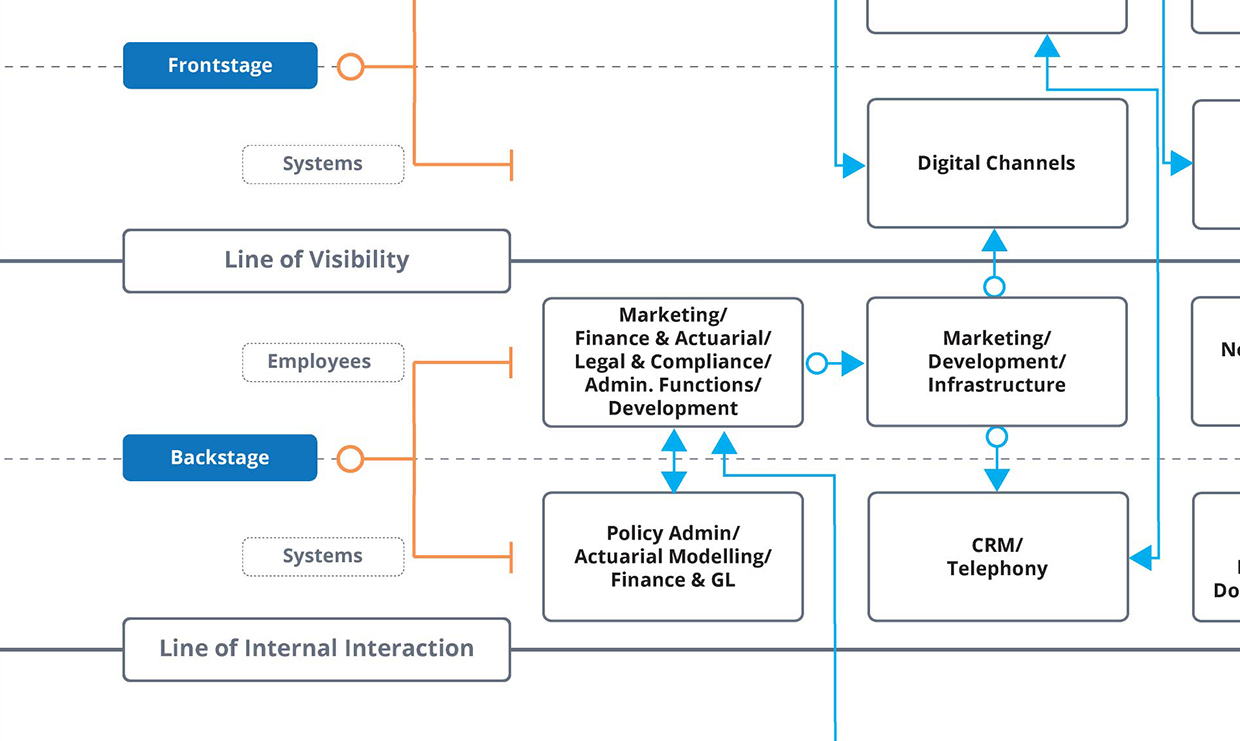 ---
Background
This company was exploring how best to enter a new market in Germany with general insurance products, such as car and home insurance. Instead of investing in new bricks-and-mortar branches, the strategy was to sell insurance products through both digital channels and existing broker networks, while using a Third Party Administrator (TPA) to administer policies locally. This was a novel approach for the company, involving developing new business methods and partnerships. There were a lot of moving parts meaning that sometimes the team got lost in the detail, however the application of service design techniques helped shift the focus back to the consumer and achieve internal alignment.
What Did I do?
I was initially tasked with working with the team on fine-grained process flows around how individual functional areas should work in the target state. Something that became rapidly clear however was that the overall vision was becoming a little blurred amidst all the conversations around partnership, legislation, finances, etc. I decided that we should try and look at things a bit differently, shifting focus back to the customer's journey and their needs. Through this I could help promote understanding of what blocks needed to be in place to support the customer, then figure out who needed to do what.
Using the process work already done, I started to look at pulling together journey maps for individual transactions - i.e. making a claim, etc. Again however, this method proved to be too fine-grained, and immediately brought the conversations back to the finer details of implementation. What was needed was an overall service blueprint that could be shared with all parties to facilitate the conversations about what was needed on a strategic level. Service blueprints are really useful when examining and implementing the delivery of complex services, especially in a situation like this, where there were multiple players, systems, touchpoints and channels.
To start developing alignment around what our service should encompass, I created a macro service blueprint - though quite coarse-grained, this was the level that was needed to get the conversation started. First I started with a high-level end-to-end lifecycle for a customer, and what touchpoints they would have at each stage ("Physical Evidence"). Then I added three more elements:
The line of interaction: The point at which customers and the service interact.
The line of visibility: Beyond this line, the customer can no longer see into the service.
The line of internal interaction: This is where the business itself stops, and external parties step in.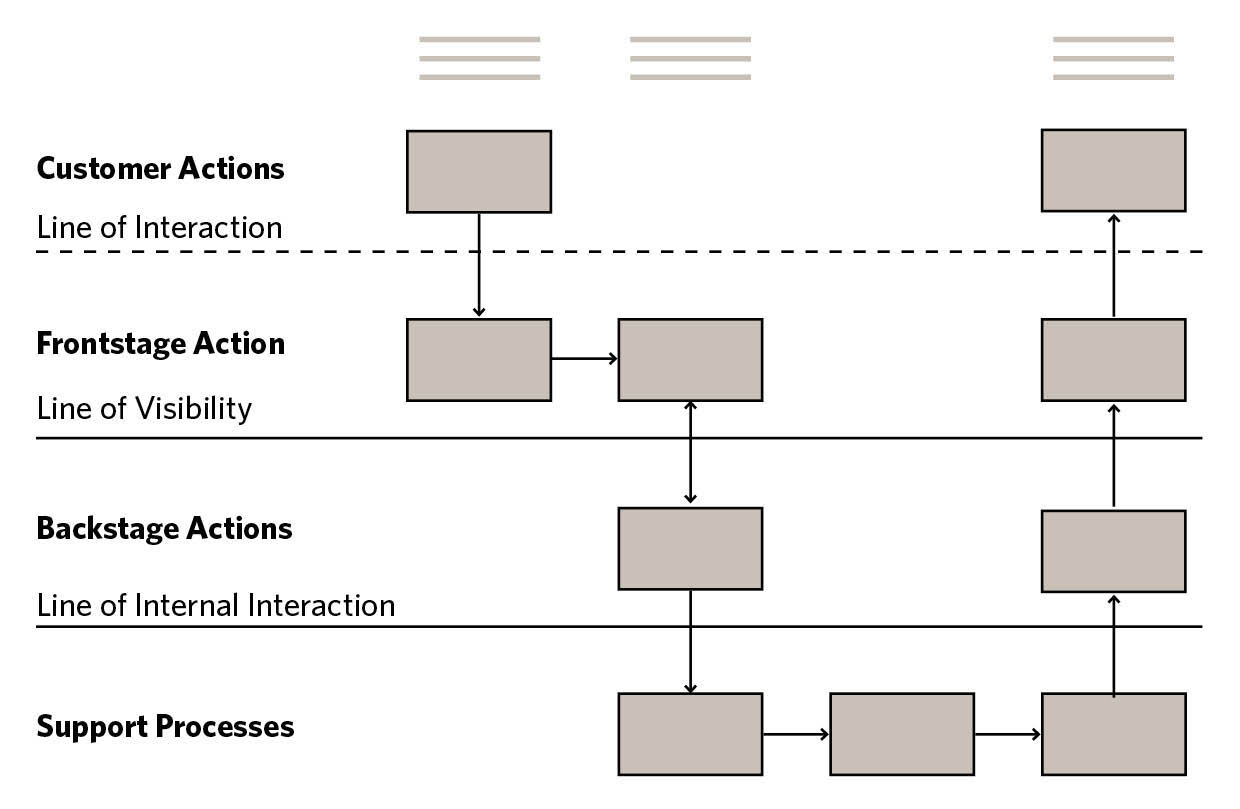 I then split the front and backstage activities into "Employees" and "Systems" to aid understanding in the scenario where activities in one lane would be split between partners. You can see an early working version of what I did in the main images above.
In order to put this together, I met and interviewed various business-owners and functional leads to understand the external and internal interactions more fully. Once I had a version that had been sufficiently honed-down, I held a workshop with stakeholders to walk them through the blueprint. This was excellent, as we were able to stand in front of giant print-outs of the map and look at individual areas, discuss the flows and interactions, and make changes right there by either writing on the map, or using stickies.
What Were The Outcomes?
Service blueprinting flipped the conversation from a very introspective, business-oriented one around partnership and ownership, to one which focussed on the customer. Here blueprinting again proved itself as an alignment tool in a situation where you "can't see the wood for the trees". Also, stakeholders were able to point to specific capabilities and more readily understand who was doing what, and how important specific functions were.
---
Client
General Insurance Company
Techniques
Research, Interviewing, Analysis, Journey Mapping, Workshopping, Service Blueprinting