SaaS Application Maps - Experience Design

Software Product House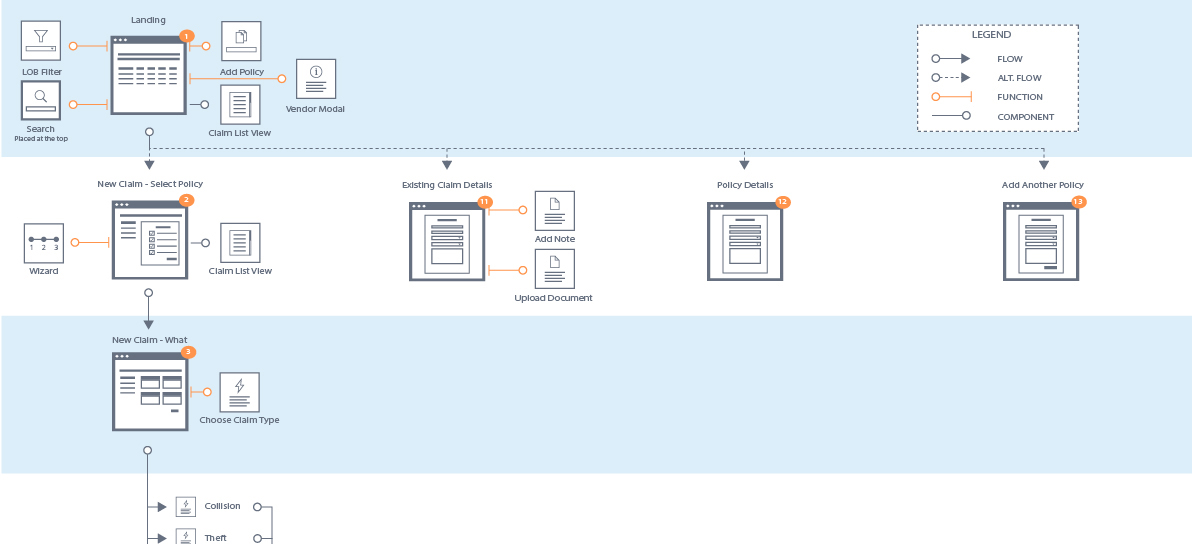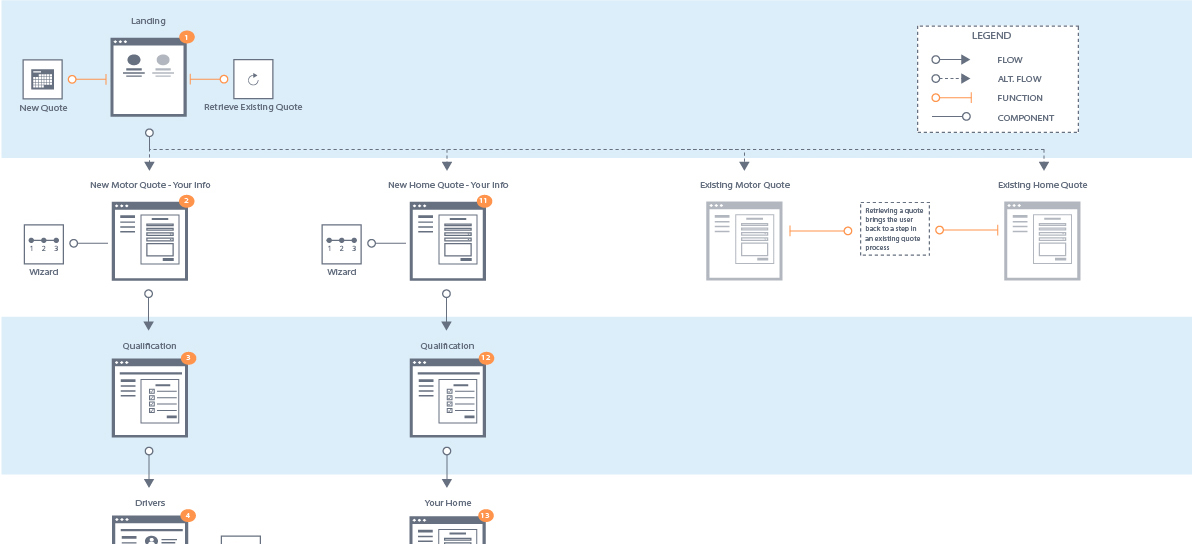 ---
Background
This company develops enterprise insurance software, and had an existing suite of highly successful on-premise hosted admin and web applications that were both internal and consumer-facing. The company planned to develop a next-generation SaaS product aimed at providing cutting-edge digital experiences, enabling new capabilities for insurers and new possibilities for the consumer.
I was the design lead for the first journeys to be built - quote-and-buy, account management and claims. This section is purely about IA efforts for this project.
What I Did
At a certain point in the project it was getting a little difficult to organise thinking on where we were going on overall structure, process flow and feature planning for the various journeys. Given the breadth of the project, sometimes conversations with product management and devs became unnecessarily confused. To remove this confusion I took it upon myself to create application maps of planned flows, views and features. These charted the applications' information architectures and illustrated their functional inventories. I created these in Adobe Illustrator. Individual views were numbered to allow easy reference to supporting documents, with call-outs referencing important pieces of functionality or components. I charted both direct and alternate flows through the application, as it was important to not only describe the "happy paths".
What Were The Outcomes?
These application maps helped to achieve internal alignment with PMs and devs, providing a point of reference for conversations that everybody could relate to. The maps became a living document, added to and amended over time. Mapping alternate flows proved invaluable in discussions around things like validation, and what efforts would be needed to handle all cases. One slightly unexpected, but very valuable, benefit of the maps was their later use as a discussion tool with potential customers. In these engagements, slightly amended maps were used as a visual roadmap to generate interest and communicate what development plans were.
---
Client
Software Product House
Techniques
Information Architecture, Process Flow Design
Technologies
Adobe Illustrator